More Project Spectrum
Another
Project Spectrum
entry. I love blue/gray/white. I wasn't planning on doing any photography per se, but the color of the sky was so intense yesterday, I had to take some pictures.
My south-facing sewing room window. See the cardboard box? It's still full of serger thread. I took measurements of my cabinets this week, so I can start looking for some racks. Baby steps. . .
I was trying to think of what knitwear I have in the blue/gray/white colorway. My mother made this vest for me at least 10 years ago.
I think the colors are exquisite. Can you see the green in there? You have to look at a closeup view.
I wish I could give details on the type of yarn, the pattern, etc. I seem to remember that it might be an Alice Starmore design. . . She made a pair of matching socks that I wore quite a bit and eventually felted (oops!). This vest won a blue ribbon at mom's county fair.
Last, while I'm thinking about thread storage, I saw
this art exhibit
at
Whip up
. It's at the Brooklyn Museum.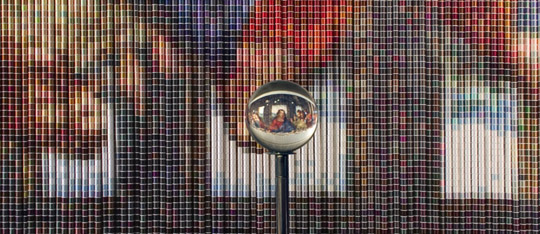 She has made the last supper and mona lisa with spools of thread hung on the wall. When you look through the viewer, you can see the paintings. How cool is that? Anyone in Brooklyn want go and tell me how she's hanging her spools?